---
About REES
Real Estate Education Services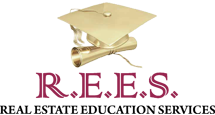 Real Estate Education Services, (REES), is a real estate education school offering numerous real estate professional development training courses.  We are an educational partner of the National Association of Realtors, (NAR).  This includes NAR certification and designation courses.  
Courses at REES are taught by Patricia de Santos who has been a real estate professional since 1979, and a real estate broker since 1991.  Ms. De Santos is also a Real Estate Professor and has been teaching real estate courses across the nation for the National Association of Realtors, and at a local community college since 2008.  During Ms. De Santos' career she has earned two Master's Degrees and is a Certified Paralegal.  This has provided Professor De Santos with the skills necessary to bring life and context to technical real estate material.
We proudly invite you to review our Description of Classes and our menu of course offerings for your real estate education.  Our courses are offered Live Online via a Live Streaming program.  The Live Streaming program allows for expanded accessibility to real estate professionals in the most convenient and safe way possible today. 
We look forward to working with you and helping you strengthen and enhance your personal and professional real estate skills.
Real Estate Education Services
Knowledge is Power
406 Orchid Ave., 912
Corona Del Mar, CA 92625 US
Licensed Real Estate Broker 00758103